Youth and experience are two seasons in man's life that it is difficult to find blended within the same generation. But it is exactly youth, experience and spirit of innovation that constitute the secret with which our company has tackled its work over the past 50 years.
The path of our company begins around the 50's when the passion for the mechanics by Mariotti father affects significantly its young children. Armed with this deep motivation that has been transmitted to them, Mariotti brothers decided to create, in 1960, a small workshop. Aware of the will to continue trading with considerable dedication, they establish in 1968 the current company headquarters in Caronno Pertusella, strategic area close to Milan, Varese and Como. The following years were a continuous evolution of production with design and construction of new machinery and special equipment, in various fields such as glass, food, gold jewelery, etc … Technological innovation (specially in electronics and Information Technology)  and comparison in increasingly competitive markets brought COMEC, at the end of the 80's, to consider a further expansion of its facility because of the business growing: another important step was achieced by the begin of the 2000: thanks' to the passion for science and specially for astronomy, the Company decided to undertake the technical-scientific field; it was by this decision that the 10Micron division was born, specializing in the design and production of mechanical and electronic parts for astronomical telescopes, becaming a worldwide leader.
By 2009, a second and important enlargement was necessary in order to improve the activity: the entire production was moved to a new shed, togeter with the raw material warehouse; the old production shed accomodates now different departments: production,s laboratories, quality check etc.
Today the third generation has taken up the challenge of the new market, very demanding and ever more specialized; in a 2500sqm facility, surrounded by about 3000 sqm of green land, many skilled professionals work with great passion and efficency.
 Their passion and their expertise, taking advantage of cutting-edge production systems, constitute a solid guarantee for the future, with the aim to provide customers with top level services and products
Comec snc facility, in Caronno Pertusella (Va) – ITALY
---
Comec logo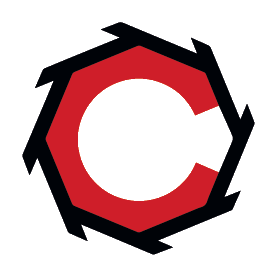 The COMEC logo was designed by Mr. Giorgio Mariotti: it represents a gear, unequivocal symbol of the mechanical industry, in which is inserted the "C" of Comec, in red color; the theeths rotation symbolizes the dynamicity and continuous evolution of the Company